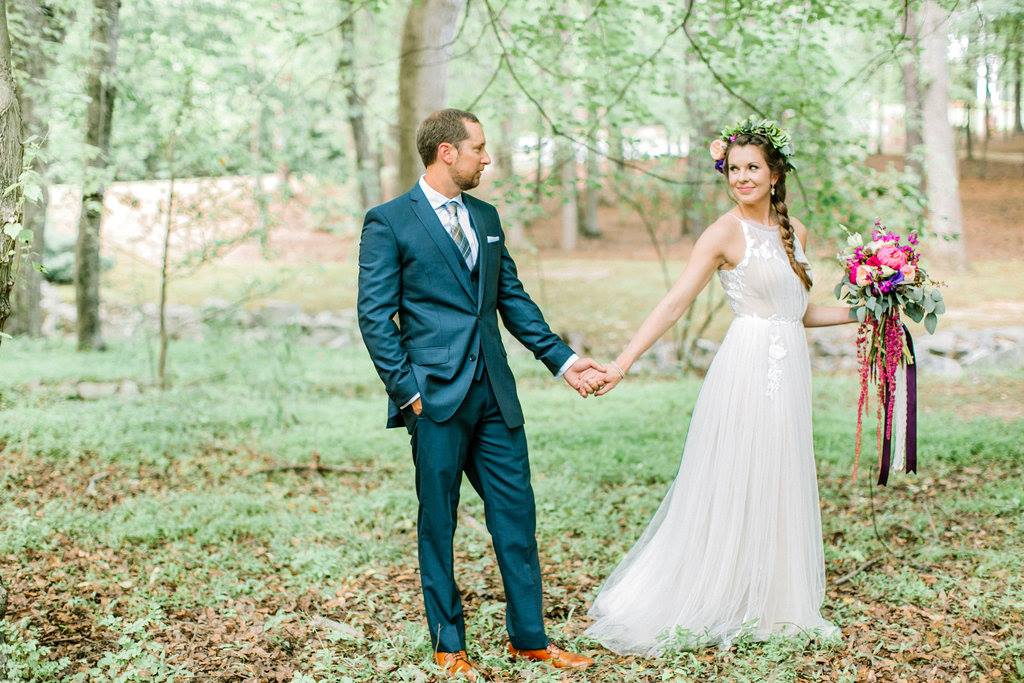 Real bride Brittany wearing bohemian style dress by ANNA KARA
« I'll tell you a secret! When we are expat like me, one of our best friend to find good addresses is « google ».
After a short journey on it, the boutique Belle en Blanc became obvious. Indeed, after browsing all the laudatory testimonies, the pictures of the dresses, getting more beautiful one after the other, I have clearly made my choice. This is going to be my first Lausanne address and also the last.
Completely charmed, I sent an email and received directly an answer back to book an appointment. The first and good feeling was confirmed.
Welcomed by Olga, the owner, I discover a place dedicated to the bride: an elegant and feminine decoration which highlights so perfectly all the choices of the gowns from various designer and the fitting room, but more over, the splendid view of the lake and the alps, have made of this boutique the choice of my heart, really. Just need to find my dress now.
However, I have to wait a bit more as Olga is first asking me a few questions about the style of the wedding and my wishes for clothing. I want to have a dress in ivory, which is unique and reflects a bit of fancy tones, as well as rustic and bohemian, which is Kelley and I whish for the day.
Equiped with these details, Olga selects a few gowns. The fabulous adventure of trying dresses has now started. Olga leaves me some space to take time and to look at myself in the mirror and also tries to identify what I like or dislike in each gown. They are all beautiful, but I still can't feel the "wooow" effect.
Nevertheless, I am still on my cloud and comes the last gown to try, which is the dress from a polish designer, Anna Kara. By just looking at it, I directly notice the difference: the ivory colour is more obvious and its main fabric, which is in tulle, is simply splendid. It gives the rustic aspect I was looking for. I try it on with a lot of excitement. Olga has barely finished to close the last button of the back, that I spontaneously say "I love IT". It is the one for sure, this is the one I am going to wear at my wedding. The dress is moreover comfortable; I can even move and dance. Olga is as well convinced; she noticed my switch of expression and posture. I just became at one with the dress.
Even though Olga is professional in her advices, she knows as well how to take time to celebrate happy times. She then offers me a glass of champagne to cherish and memorise this moment full of emotions.
Then, she takes my size in order to make the dress bespoke and to wear it fitted. She assures me that the dress will be delivered on time, as she chooses her designer not only for the quality of their designs and fabrics, but also for their reactivity and respect of deadlines.
Indeed, three months later, Belle en Blanc calls me to try MY dress. It is just a delight to discover it again and we proceed to small adjustments. A week later, it is with my precious dress that I embark on a plane to the USA, where I get to celebrate my wedding. On the day, I felt like a real princess and my husband compared me with a Greek goddess. He also found "us" (the dress and me) beautiful! Enjoy! »